ov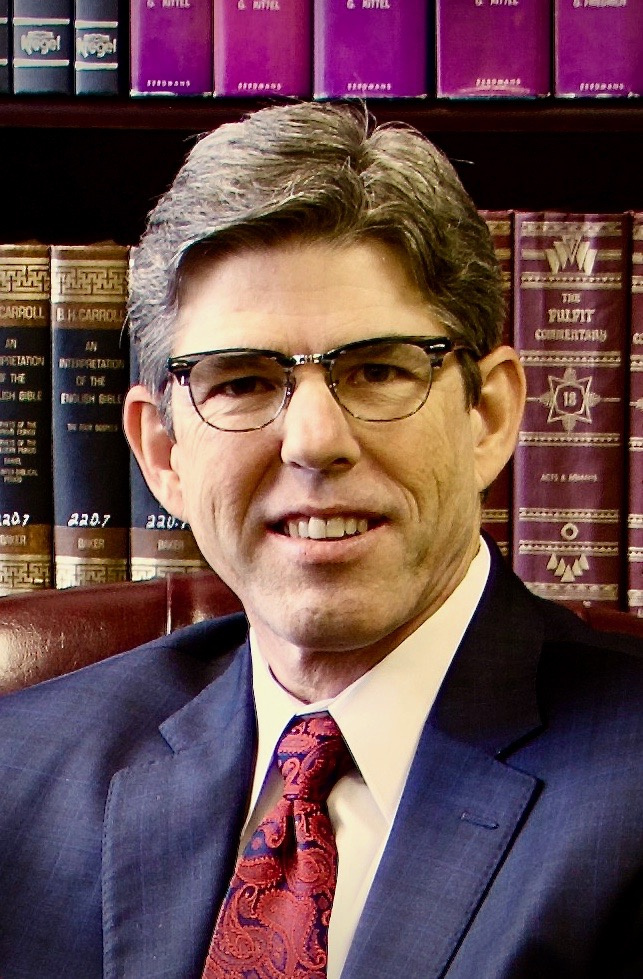 Dr. Scott Brooks is a native of Siloam Springs, Arkansas, a father of four, and a graduate of both the Missionary Baptist Seminary in Little Rock, Arkansas, and the Tulare Missionary Baptist Seminary in Tulare, CA. He has served the Tulare Missionary Baptist Church as Pastor since October of 2016.
Prior to coming to the Tulare Missionary Baptist Church as Pastor, Bro. Brooks served from July, 2005, to September, 2010 as an instructor in the Tulare Missionary Baptist Seminary, and from 2007 to 2010 as Associate Pastor of TMBC.
Bro. Brooks has earned and holds the following degrees:
Missionary Baptist Seminary — Bachelor of Bible Languages (1995), Master of Bible Languages (2003), and Master of Theology (2003)
Tulare Missionary Baptist Seminary — Doctor of Theology (2008)
Our pastor was saved on April 4, 1971, at the age of eight. Having been raised under the influence of a Christian home and regular Bible preaching, he readily responded to the Holy Spirit's conviction when he became aware of his sin, trusting in God's promise of redemption by grace through faith. He was baptized by the Landmark Missionary Baptist Church of Siloam Springs on April 11, 1971 and remained a member of LMBC continuously until his departure in 1982 for Arkansas Tech University in Russellville, Arkansas. There he soon joined fellowship with the Russellville Missionary Baptist Church where he further grew and served until the summer of 1985.
Bro. Brooks' chosen (and presumed) career path in Mechanical Engineering led to his return to Northwest Arkansas, transferring from Arkansas Tech University to the University of Arkansas at Fayetteville in the Fall of 1985. There he embarked upon his engineering career as an Industrial Engineering Technician with the Kawneer Company, but never found real fulfillment nor satisfaction in that field. About 1988, he left that company and began working for the leading local sign company, with primary responsibilities over purchasing, rendering, pattern-making, and some light estimating. This too, Bro. Brooks found ultimately unfulfilling and unsatisfying.
During this same period, finding himself within reasonable driving distance of his home church in Siloam Springs, Bro. Brooks and his wife Sandy, whom he had married on March 5, 1983, joined fellowship with the Landmark Missionary Baptist Church where he found opportunities for greater service than previously. He served LMBC as a youth leader, young people's teacher, and music director, always reaching for that sense of fulfillment which yet remained elusive.
It was during this time that Bro. Brooks began to sense God asking something more of him, and to consider whether he might actually be called to the ministry. For about two years He wrestled with and prayed about the question and ultimately surrendered to God's call into the Gospel ministry in the summer of 1991. Recognizing that he was ill-equipped to consider a pastorate at that time, and desiring to better prepare for the work to which God had called him, Bro. Brooks and his wife took a step of faith, uprooted their lives and their 10 month old daughter, and relocated to Little Rock so that Bro. Brooks could attend the Missionary Baptist Seminary.
While in Little Rock, Bro. Brooks served the Unity Missionary Baptist Church as a Pastoral Intern, later moving to the Liberty Missionary Baptist Church (now disbanded) where he and Sandy were members until Bro. Brooks received the call to his first pastorate with the Pine Top Missionary Baptist Church of Broken Bow, Oklahoma. Bro. Brooks was ordained to the Gospel Ministry by Liberty MBC on September 16, 1995, and moved his family, then including three daughters, to Broken Bow shortly after. Bro. Brooks faithfully served Pine Top MBC for 6 years.
Sensing a need for change, Bro. Brooks left the church in Broken Bow in September of 2001, and was called as Pastor of Big Creek Missionary Baptist Church at Malvern, Arkansas, in October of that same year. While serving Big Creek MBC, he determined to seize the opportunity to return to the Missionary Baptist Seminary — about 45 minutes away — to continue his education by pursuing a graduate degree, which he completed in 2003 earning both Master of Bible Languages and Master of Theology degrees.
His renewed exposure to the academic environment caused Bro. Brooks to recognize a thirst to teach others who desire a more in-depth Bible knowledge than is typical. Amidst that state of mind and heart came the opportunity to engage in such a ministry with the Tulare Missionary Baptist Church and Seminary. Believing this to be God's leadership, Bro. Brooks and his family of six embarked upon the major relocation from Arkansas to California in July of 2005.
For five years, Bro. Brooks served the Tulare Missionary Baptist Church as an instructor in our seminary, and later as our Associate Pastor. But as student population fluctuated and as TMBC found herself unable to continue to support a full-time Associate Pastor, the church and Bro. Brooks began to pray about and more intensely investigate God's will and leadership in all of our lives. Accordingly, God provided a solution and in September of 2010, Bro. Brooks was called as Pastor of the Grace Missionary Baptist Church in Livermore, California, where he faithfully served our dear sister-church, until returning to Tulare MBC as Pastor in October of 2016, after the retirement of our former, long-time, and beloved pastor, the late Dr. Dewayne Hoppert.
As of this writing, Bro. Brooks has given over 30 years of service to the ministry. Over those three decades, he has seen God greatly bless that ministry as well as his family. Although Bro. Brooks was widowed in November of 2016 after nearly 34 years of faithful marriage, our great God sustained him through that very difficult time and continues to bless his life, his family, and his ministry here with TMBC.